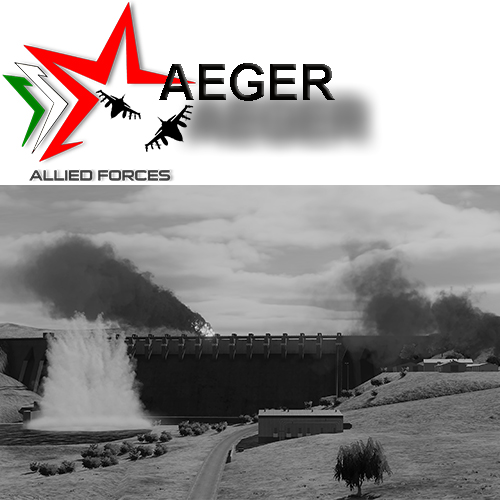 Event Date: 01-06-21
Category: PvE One Life
01/06/21
H 19:00Z = Hospitality and DCS server online with ongoing mission to access and occupy the slot (it is possible to interact with avionics).
H 19:10Z = Mission designer available for questions on ts channel: ➠ GENERAL BRIEFING ROOM (PTT Forced)
H 19:30Z = Start Mission
H 21:30Z = End Missione
H 22:00Z = De-Briefing
ZULU TIME?
UTC = GMT = "Zulu Time"
GMT=Greenwich Mean Time
(World time reference)
Solar Time = UTC+1 hour
CET= Central Europe Time
(from last Sunday in October to last Sunday in March)
Legal Time = UTC+2 hours
CEST = Central Europe Summer Time
(from last Sunday in March to last Sunday in October)
VIDEO BRIEFING (replaces pre-flight video)= CLICK HERE
VIDEO Streaming Speaker ( 1080p) = Virtual Briefing Room AF – CLICK HERE
AUDIO PLATFORM and MEETING = TeamSpeak3 (ip: simitaliagames.com) – MANDATORY to join at least one member for each flight.
DCS SERVER
Name: [ITA] AF – AlliedForces.eu – Interforze [ITA]
Ip: 138.201.226.58
Port: 10310
Psw: Communicated in vocal briefing
SRS SERVER
Autoconnect Available
Ip: 138.201.226.58
Port: 5004
LOTAC SERVER
Ip: 138.201.226.58
Port: 10314
Psw: Blue
MISSION SETTINGS
Hot Start: No
Unit on map: disabled
Label: disabled
Free Camera ( F11): disabled
External view(F2): enabled
BOOKING FLIGHTS:
MANDATORY to remove the reservation in case of absence.
GAMEPLAY:
The mission Designer and his collaborators try to propose a textual briefing as complete as possible. Each Virtual Pilot must study his own task in the days before the mission.
For Information and Advice use the Forum.
No technical support is provided on the day of the mission, each pilot must make sure to have his computer and simulator ready to fly, all must take off as scheduled for proper execution
The mission is ONE LIFE.
If you do NOT receive new tasks from entities such as AWACS or C2 continue the mission as per plan.
ARMORING RESTRICTIONS:
Cluster armament: prohibited.
Laser armament: only A10C flights authorized
ATC:
ATC AREA IS 20 NM
ATC FREQUENCY IS THE AIRPORT'S NATIVE UHF
USE OVERHEAD PATTERN PROCEDURES TO LAND (EXCLUDING CARRIER)
LAND WITHOUT ATC PLAYER
When at 20nm from the base, set the ATC frequency (UHF standard frequency of the air base)
Call Ingress of your flight and wait

If no one answers: proceed to Airbase and land with OVERHEAD PATTERN
If you receive an answer: you have now become "the last in line" so you must maintain your position and you must respond on the fly after you INDICATING YOUR ALTITUDE. When the flight in front of you has communicated a touchdown you can start the procedure (report it on the radio). Land with the Overhead Pattern method. NB: In the event of a night flight or with poor visibility, the landing requires a DIRECT APPROACH.
NB:
If you arrive in the ATC area and there is already a flight waiting, you must keep +2 Angels with respect to it.
When you are holding and will respond to the flight after you, you must report the altitude you are at.
RADIO COMMUNICATIONS
After take-off you MUST perform CheckIn on AWACS or C2 respecting the following syntax: "Recipient Name – Flight CallSign – Number of Flight components – Flight Task – Location (BE or departure airport)". es "Magic, Colt1, 4 ship, SEAD with HARM, airborne from Incirlick"
DO NOT overlap communications.
Respect the radio shirt and comm plan proposed in the briefing.
LOCATION: Persian Gulf
DATE: 21-06-2016
TIME: 08:00
METAR: 12010KT CAVOK 20 Q1013 RMK BLU=
TA/TL: use 29.92 for the entire mission.
TYPE: PvE
ALLIED AIRPORTS:
Rotary Wings: FOB Rome, FOB Italy( boarding and rearming area only),

Bandar-e-Jask.

Fixed Wing:

Fujairah,

Ras Al Khaimah,

Sharjah.
BULLSEYE: N 27°9'0″ E 56°37'10"
FLIGHT PLANS: Pre-loaded flight plans
CODEWORDS:
ROLEX + "Minutes": es Rolex+10 =

All assigned times MUST be moved forward by 10 minutes!

PARIS: OBJ MERLIN completed, no further armored offensives will start

NEMO: Moskva destroyed

DORY: Kuznetsov destroyed

BRUTE: End Mission, all RTB flights
RUNWAYS IN USE: do not contact ATC IA during ground operations
Ras Al Khaimah:

FORD 1 : 16
FORD 5 : 16
PIG 1 : 34
ENFIELD 1 : 34

Fujairah:

PIG 2 : 29
PIG 3 : 29
FORD 3 : 11

Sharjah:

FORD 2 : 30L
FORD 4 : 30R

Bandar-e-Jask: all flights use 06
LASER CODES:
PIG 1 : 1611-1612-1613-1614

PIG 2 : 1631-1632-1633-1634

PIG 3 : 1651-1652-1653-1654
PERSISTENT: the outcome of the mission will be saved for a hypothetical sequel. EVERY weaponry and module available in warehouses is subject to persistence. We have 30 modules for each type on each starting base, 50 ammunition for each type AG, 80 ammunition for each type AA. Be careful where you land as the availability of the slots will refer to the actual presence of the module inside the warehouse.
Minab Dam ( Obj Aeger )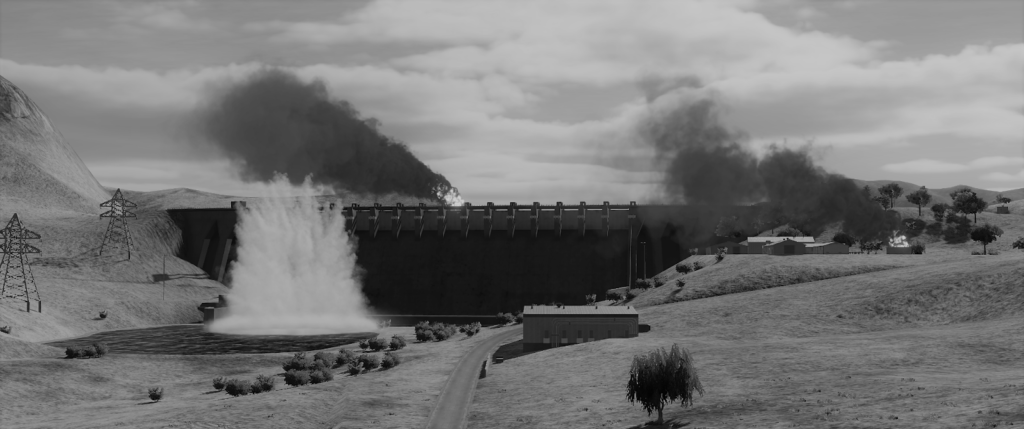 The dam is of a fundamental importance for local population , but a recent enemy retaliation has besieged the structure. Inside, the technicians were trapped in the dormitory area, a first group tried to escape by bus but was targeted by enemy tanks. The remaining technicians are waiting for airborne infantry support in order to be able to begin the destruction of documents (about 30 minutes) and then be exfiltrated. The Dam is potentially lost. Small groups of infantry and enemy light wheeled vehicles are hidden in the towns adjacent to the dam, we strongly believe that once they have taken over the dormitory area, they will try to reinforce the siege. Intelligence is certain that a further strengthening of the siege of the dam by some of the multiple subgroups of the immense platoon of heavy tanks available to the enemy (Obj Dante) is highly probable.
Jiroft Historical Ruins ( Obj Arthur)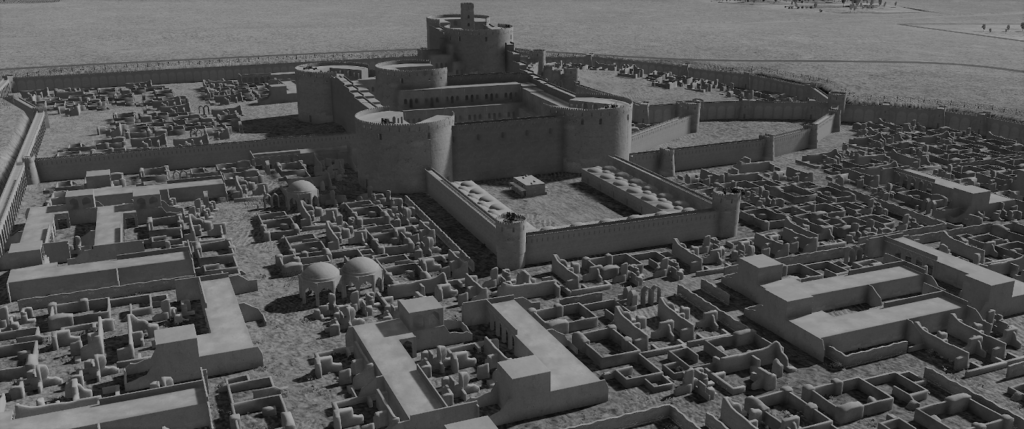 Strengthened by the ongoing retaliation, the enemy took possession of another location of strong symbolic importance. The situation is further aggravated by some civil hostages who were inside the castle in question for a guided tour. Intel reports that VIPs are being held hostage at the small compound inside the front courtyard of the fortress.
City of Jiroft ( Obj Merlin)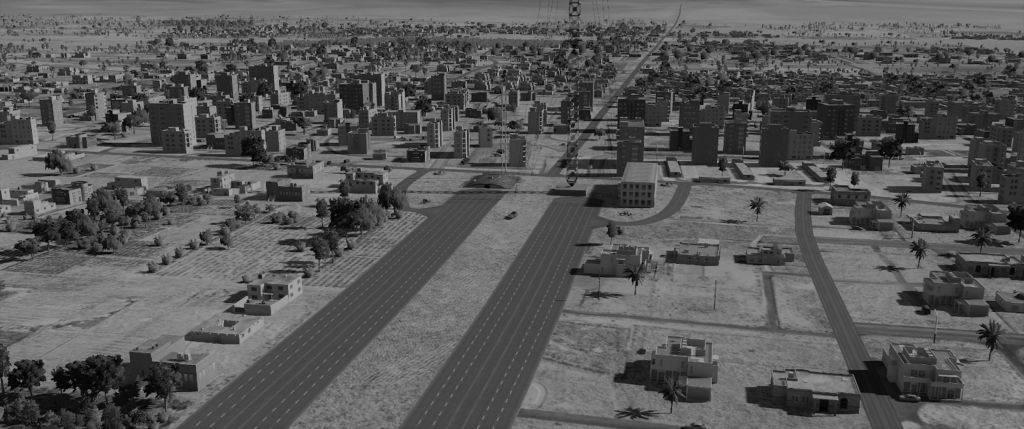 This is the real stronghold of the enemy, it has taken possession of a communication structure (TV Tower) and a control center (Command Center) dating back to the cold war. If both the aforementioned structures are destroyed, the movement of the armored groups will be stopped as it is without command.
South Jiroft Valley ( Obj Dante)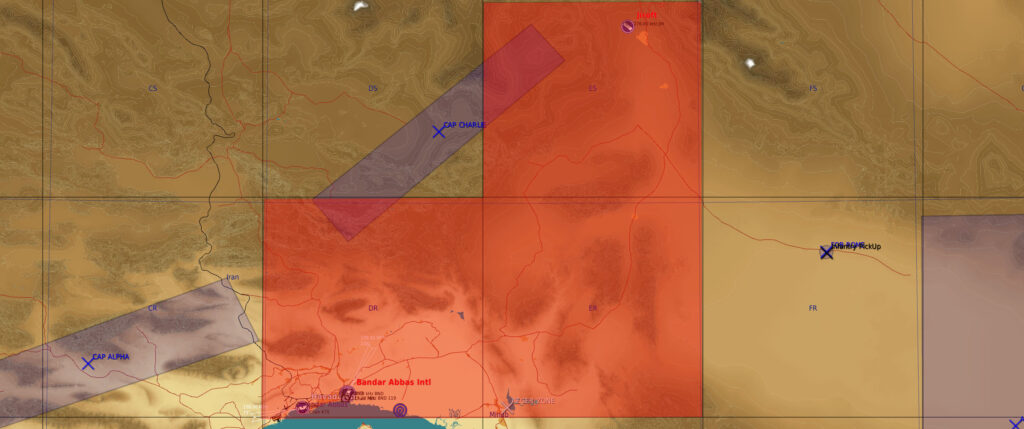 The enemy commander has deployed all the battalion of tanks in his possession at the DR, ER and ES quadrants, the battalion is currently divided into small twin groups scattered within the quadrants. At present these groups are awaiting orders from the enemy command. The destinations are the dam, the FOB ROME and the Arthur target; we are not aware of the assigned destination of each individual group but we know the exact waiting position. In conjunction with our action, some (or all) of the enemy groups will certainly begin to move. Since it will be required to move quickly, the enemy tanks will certainly move on the road.
Gulf ( Obj Poseidon)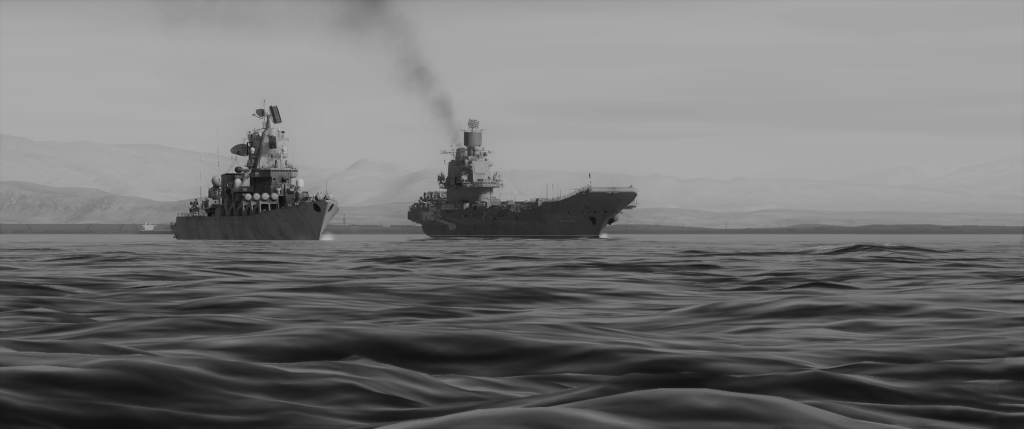 The enemy has deployed a cruiser and an aircraft carrier to defend the Gulf, the latter hosting 8 Su33 squadrons active for air coverage of the area.
UNITS
Air:
AWACS#1 + Escort ( F18 IA – Pontiac 9): Magic
AWACS#2 + Escort ( F18 IA – Pontiac 8): Focus
SHELL + Escort ( F18 IA – Pontiac 6) – KC135 MPRS
TEXACO + Escort ( F18 IA – Pontiac 7) – KC135 MPRS
ARCO 1-1 + Escort ( F18 IA – Pontiac 5 ) – KC 135 | High Speed
ARCO 2-1 + Escort ( F18 IA – Pontiac 4 ) – KC 135 | Low Speed
Sea:
CVN71 Theodore Roosevelt: see file Op.AegerINTEL.miz

Speed: 11 Kts
Brg: 294°
Start Position: N 25°17'20" E 58°14'58"
For other informazion : Kneeboard Support in game

CVN72 Abraham Lincoln: see file Op.AegerINTEL.miz

Speed: 11 Kts
Brg: 294°
Start Position: N 25°21'32" E 58°10'25"
For other informazion : Kneeboard Support in game

CVN73 George Washington: see file Op.AegerINTEL.miz

Speed: 11 Kts
Brg: 311°
Start Position: N 25°32′ 4″ E 55°17'27"
For other informazion : Kneeboard Support in game

CVN74 John C.Stennis: see file Op.AegerINTEL.miz

Speed: 11 Kts
Brg: 311°
Start Position: N 25°28'57" E 55°18'39"
For other informazion : Kneeboard Support in game

LHA-1 Tarawa: see file Op.AegerINTEL.miz

Speed: 11 Kts
Brg: 294°
Start Position: N 25°13′ 7″ E 58°20'31"
For other informazion : Kneeboard Support in game

DDG Arleogh Burke : see file Op.AegerINTEL.miz
DDG Arleogh Burke : see file Op.AegerINTEL.miz
Drone MQ-9 Reaper( AGM114K*8): see file Op.AegerINTEL.miz
Land:
JTAC(Scripted e Vanilla) PlayBoy( MANPADS Stinger): N 28°15'31.77″ E 57°57'12.28″
C2: Falcon
C2: Coral
FOR ALL FLIGHTS:
Do not damage runways.
Do not damage civil buildings.
Cluster weaponry prohibited.
Laser guide armament: ONLY A10C flights authorized
In case of non availability of a human AWACS or C2, refere to ROE and Mission Planning.
FIXED WING PACKAGES:
ROTARY WING PACKAGES:
CAP ZONES:
CAP ALPHA:

Commit BE 284°- 320° hostile < 200NM – Ceiling 32A
CAP BRAVO:

Kuznetsov active:

Commit Su3 – Ceiling 30A
Kuznetsov destroyed:

Commit 280°-030° hostile < 70NM – Ceiling 30A

CAP CHARLIE:

Commit BE 330°-015° hostile <150NM – Ceiling 27A
CAP DELTA:

Commit BE 330°-015°hostile <100NM – Ceiling 30A
Obj Poseidon: attack the naval vessels in the Gulf, East of Qeshm Island, in order to destroy the aircraft carrier "Adm. Kuznetsov" and disable the cruiser "Moskva".
Obj Aeger: destroy heavy tanks and artillery – garrison dormitory area by continuous infantry transport (boarding support infantry from FOB Aeger) – keep the area manned for 30/40 minutes – exfiltrate the technical personnel of the dam and transport them to their destination (FOB Aeger Bus Zone ). The task fails if the dam technicians die and / or if any enemy units enter the dormitory area before the technicians have been exfiltrated.
Obj Merlin: destroy the command center and communications antenna.
Obj Arthur: clean the entire area of the ruins – exfiltrate the VIPs and transport them to their destination (FOB Rome). The mission fails if the VIPs die.
Obj Dante: clean the designated quadrants by destroying all groups of the enemy armored platoon, if requested by C2, garrison the required passages leading to the Aeger-Merlini and FOB Rome areas.
Obj EWR: Destroy 4 enemy EWRs.
Airport Bandar Abbas: destroy parked enemy planes.
Airport Jiroft: dinstruct parked enemy planes.
For this mission it is imperative to respect the assigned timings: please match your given take-off time, fly in order to match your assigned "time on target" and remain on the target area for the assigned time window!
TOT+Rolex: on this mission, server will be online and not in pause mode from 18:45 z to 19:00z. This will allow pilots to get inside the cockpit with an operational aircraft. At the end of the briefing, a ROLEX will be provided and every pilot will adjust his timings accordingly. In the "Download" section you will find the specific Target Folder for every mission.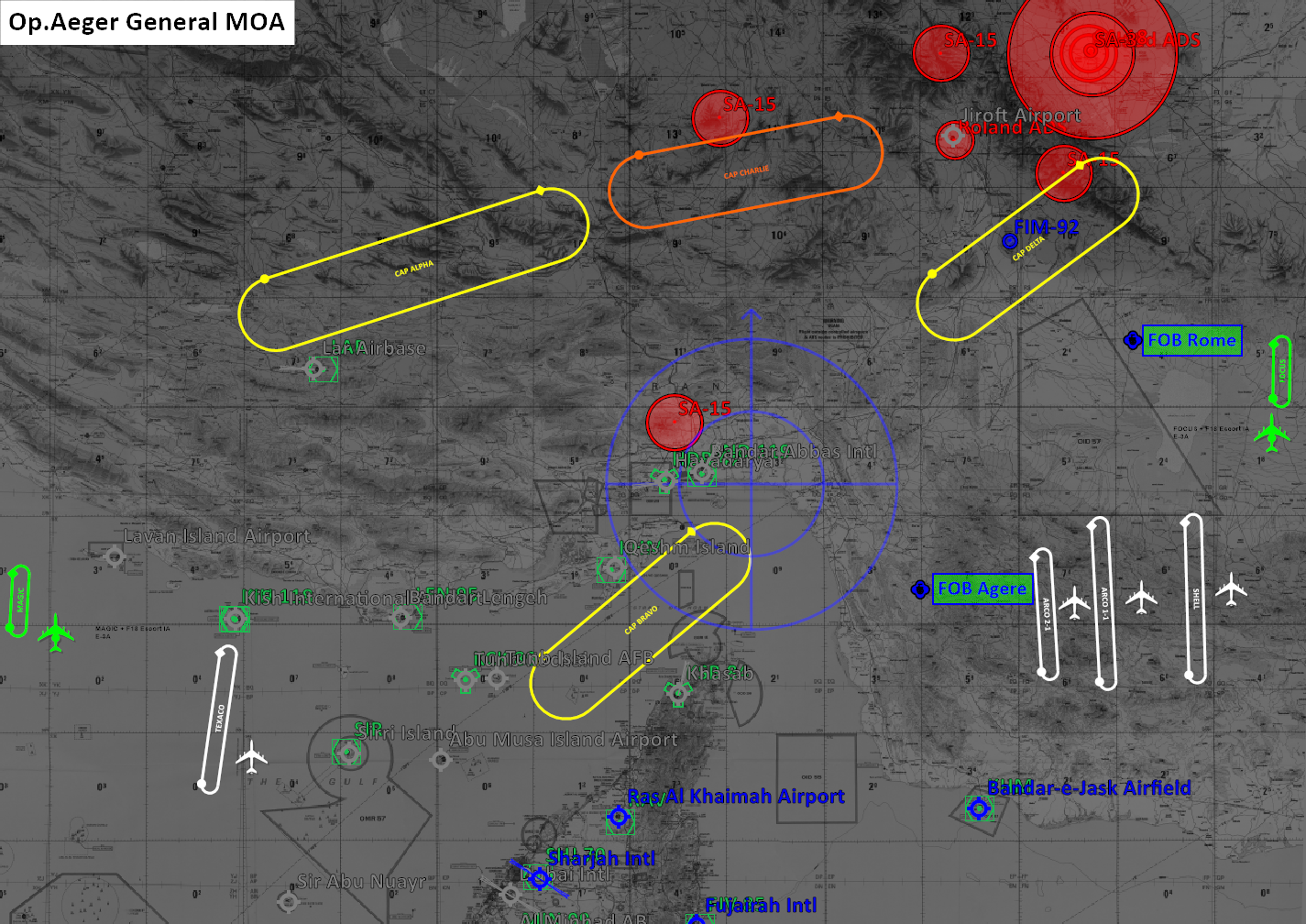 OBJ POSEIDON

OBJ AEGER
The area in front of the dam is the "kill zone".
It is imperative to disembark the troops directly on the Landing Zone (LZ).
The Team Leaders (TL) will organize own forces to ensure a continuous support of ground soldiers.
The dam technicians are organized in 4 teams of 4 persons each.
Boarding method: dam technicians = DCS Vanilla | Support Infantry = DSMC structure ( CLICK HERE FOR MANUAL )


OBJ DANTE
We know the exact coordinates of each and every tank's group (see file Op.AegerINTEL.miz).

OBJ  ARTHUR
VIP groups are organized in 2 groups of 2 persons each and will be ready for exfiltration only after a complete reclamation of the area. The VIPs are then to be transported to FOB Rome.
Boarding method: VIP = DCS Vanilla
OBJ  MERLIN

EWR

CAP
In case of non availability of a human AWACS, refere to ROE.
OBJ STRIKE AND CAP SUPPORT(Bandar Abbas and Jiroft airfields)
All enemy aircrafts parked in the two airfields are units that provide Close Air Patrols..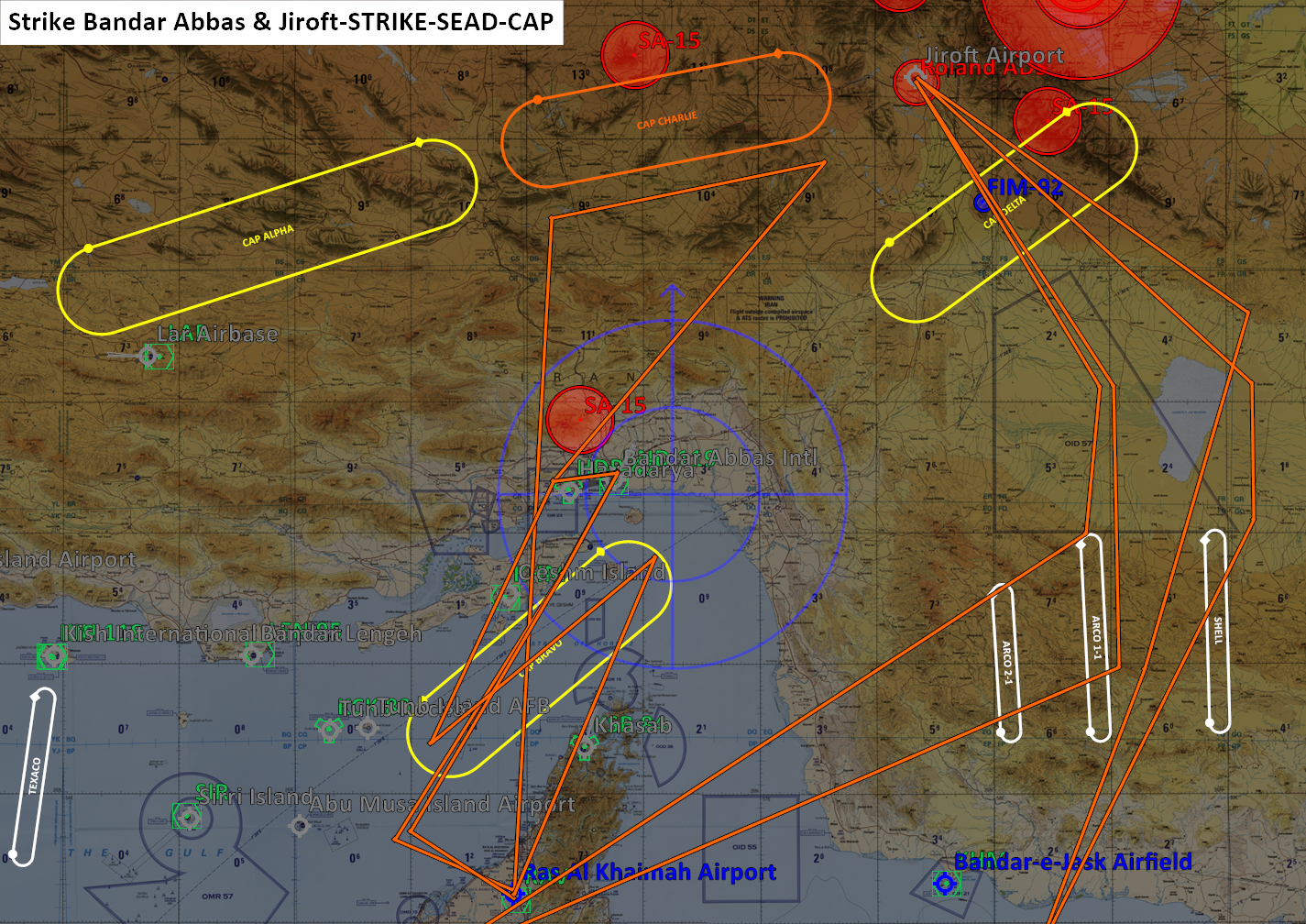 HUMAN DIRECTORS