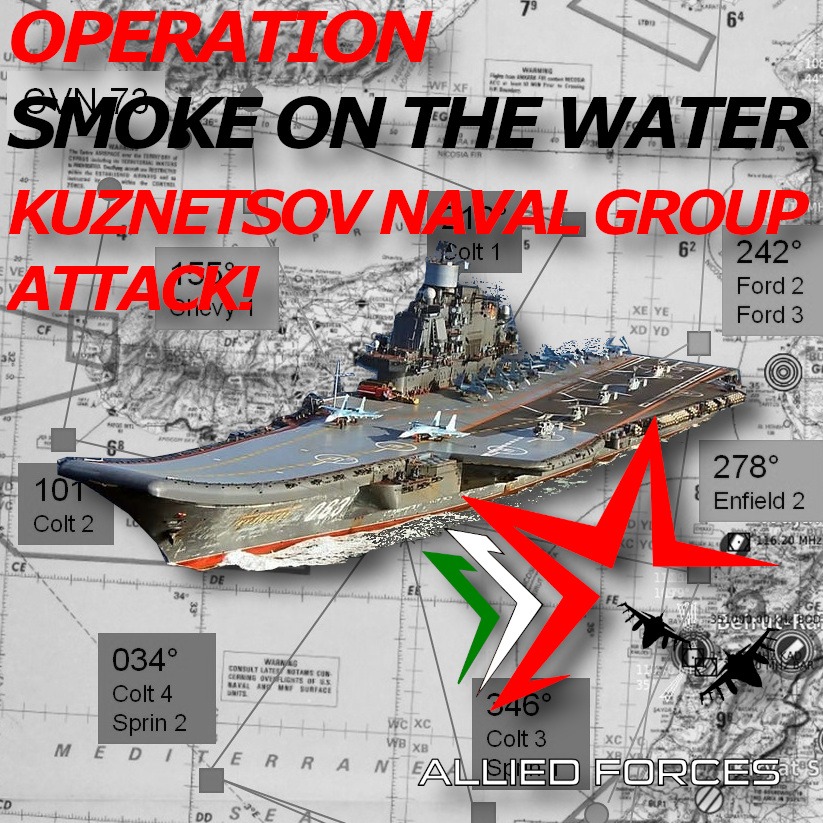 ● data evento
Data Evento: 15-02-21
Categoria: PvE One Life
● Programma
14/02/21
H 20:00Z = Briefing in lingua Inglese – CONTATTACI QUI PER INFO MEETING
15/02/21
H 20:00Z = Accoglienza e server DCS online con missione in pausa
H 20:15Z = Briefing audio su canale ts : ➠ GENERAL BRIEFING ROOM (PTT Forced)
H 20:30Z = Inizio Mission
H 22:30Z = Fine Missione
H 23:00Z = De-Briefing
ZULU TIME?
Ora UTC = Ora GMT = Ora Z (Zulu)
GMT = Greenwich Mean Time
(ora di riferimento mondiale)
Ora Solare = Ora UTC + 1 Ora
CET = Central Europe Time
(dall'ultima domenica di ottobre,
all'ultima domenica di marzo)
Ora Legale = Ora UTC + 2 Ore
CEST = Central Europe Summer Time
(dall'ultima domenica di marzo,
all'ultima domenica di ottobre)
● Supporti Briefing
VIDEO = Zoom – Link Incoming
AUDIO = TeamSpeak3 ( ip:simitaliagames.com)
ZOOM?
For virtual meeting you don't need account or software. You just have to click on the button "Join Meeting" and then click on the link "Use browser…"
● Server
DCS SERVER
Name: [ITA] AF – AlliedForces.eu – Interforze [ITA]
Ip: 138.201.226.58
Port: 10310
Psw: Communicated in vocal briefing
SRS SERVER
Autoconnect Available
Ip: 138.201.226.58
Port: 5004
LOTAC SERVER
Ip: 138.201.226.58
Port: 10314
Psw: Blue
MISSION SETTINGS
Hot Start: only for fixed wing
Unit on map: disabled
Label: disabled
Free Camera ( F11): disabled
External view(F2): enabled
● Regolamento
GAMEPLAY
Supporto Hardware non disponibile – I VOLI DEVONO DECOLLARE SECONDO COME PROGRAMMATO.
La missione è ONE LIFE
ATC
ATC AREA E' 10 NM
LA FREQUENZA ATC E' LA UHF NATIVA DELL'AEROPORTO
LA METODICA ATTERRAGGIO E OVERHEAD PATTERN( ESCLUSO CARRIER)
ATTERRARE SENZA ATC PLAYER
Quando a 10 nm alla base aerea, impostare la frequenza ATC (frequenza standard UHF della base aerea)
Chiama Ingress del tuo volo e attendi

Se nessuno risponde: procedi ad Airbase e atterra con OVERHEAD PATTERN
Se ricevi risposta: da ora sei diventato "l'ultimo della fila" quindi devi mantenere la tua posizione e devi rispondere al volo dopo di te. Quando il volo davanti a te è atterrato puoi iniziare la procedura (segnalalo alla radio). Atterra con il metodo overhead pattern.
NB:
Se arrivi nell'area ATC e c'è già un volo in attesa, devi tenere +1 Angelo
When you are holding and responding to a flight behind you, you also have to tell what altitude you are.
Quando sei in holding e risponderai al volo dopo di te, devi riferire la quota in cui ti trovi.
∎ PANORAMICA MISSIONE
LUOGO: Syria
DATA: 15-08-2019
ORA: 11:27
METAR: 31010KT CAVOK 24.3 Q980 RMK BLU=
TIPOLOGIA: ANTI SHIP
AEROPORTI ALLEATI:
Rotary Wings: Asset Non Previsto

Fixed Wing: Ramat, Incirlik, Haifa, CVN73
BULLSEYE: 33.49N – 35.30E (aeroporto di Beirut)
PIANI DI VOLO: Piani di volo pre caricati
CODEWORDS:
Panther : General Recall
Lion : DO NOT leave Initial Point Until Further Notice
Jaguar : Clear to leave I.P at xx.yy Zulu time
PISTA: non contattare ATC IA durante le operazioni di terra
Incirlik: 23
Haifa: 34
Ramat: 33
CODICE LASER:
∎ CONTESTO
Quarta missione campagna dinamica Syria
∎ SUPPORTI
UNITS
Air:
AWACS#1: Magic(IA) or Focus(Human)
AWACS#2: Darkstar(IA )
Sea:
CVN73 George Washington:

Speed: 20 Kts
Brg: 075°
Start Position: N 35.51'.12" E 32.45'.48"
For other informazion : Kneeboard Support in game
Ground:
∎ MINACCE
AA:
AG: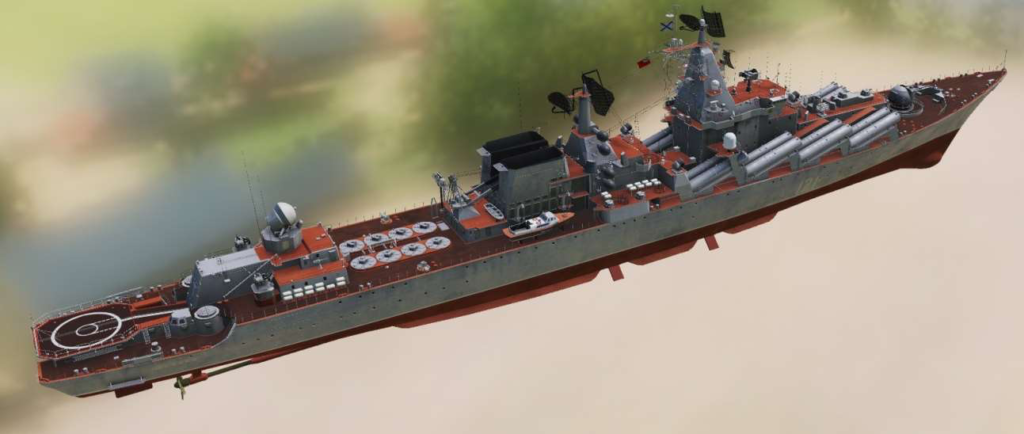 Moskva (cruiser)

8X8 SAM Fort
2×2 SAM OSA
1 130mm AK-130 gun
6×6 30mm AK-630 gun

Kuznetsov

4X6 SAM Kynshal
8 SAM Kastan (8km)
6×6 30mm AK-630 gun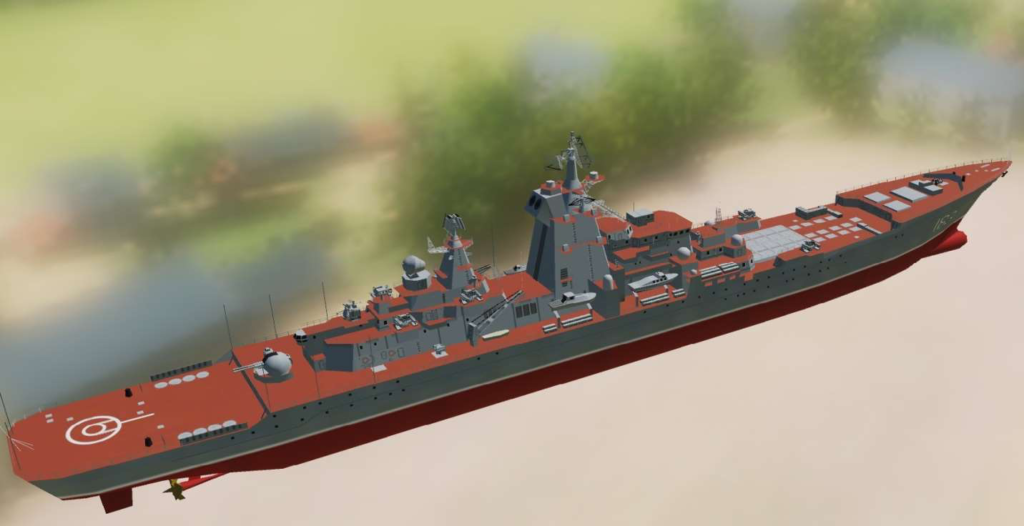 Pyotr Velikiy (cruiser)

12 S-300F (96 missiles)
8 SAM Kastan (8km)
6×6 130mm AK-130 gun
6×6 30mm AK-630 gun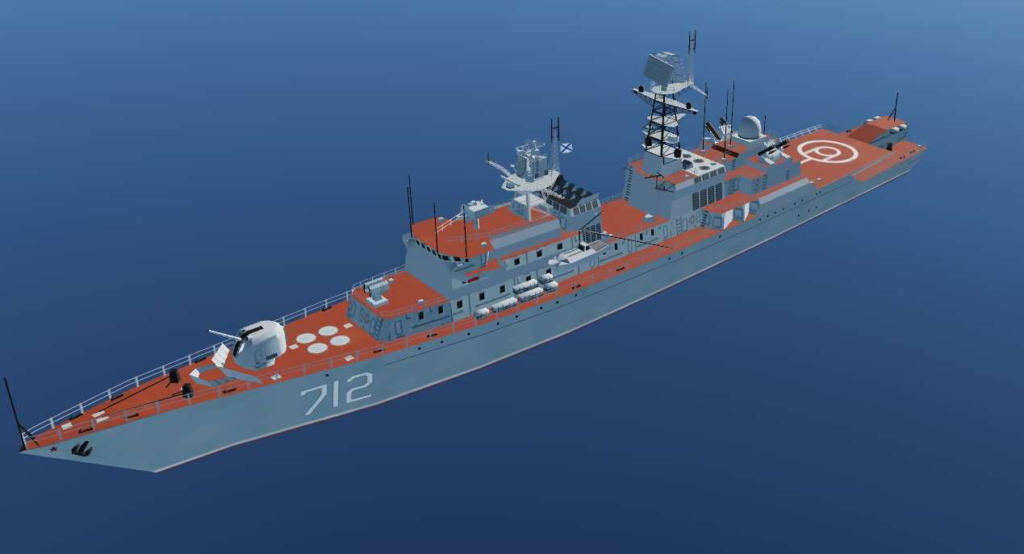 Neustrashimy (Frigate)

4X8 SAM Kynshal
2 SAM Kastan (8km)
1 100mm AK-100 gun
2×6 30mm AK-630 gun
∎ ROE
TUTTI I PACCHETTI:
Valgono le Codewords impostate sopra
∎ ORDINI DI MISSIONE
ALA FISSA :
OBJ KUZNETSOV: attaccare il gruppo navale KUZNETSOV con tutti gli asset
ALA ROTANTE:
Asset non disponibili
∎ PIANIFICAZIONE
VIDEO BRIEFING
BRIEFING TESTUALE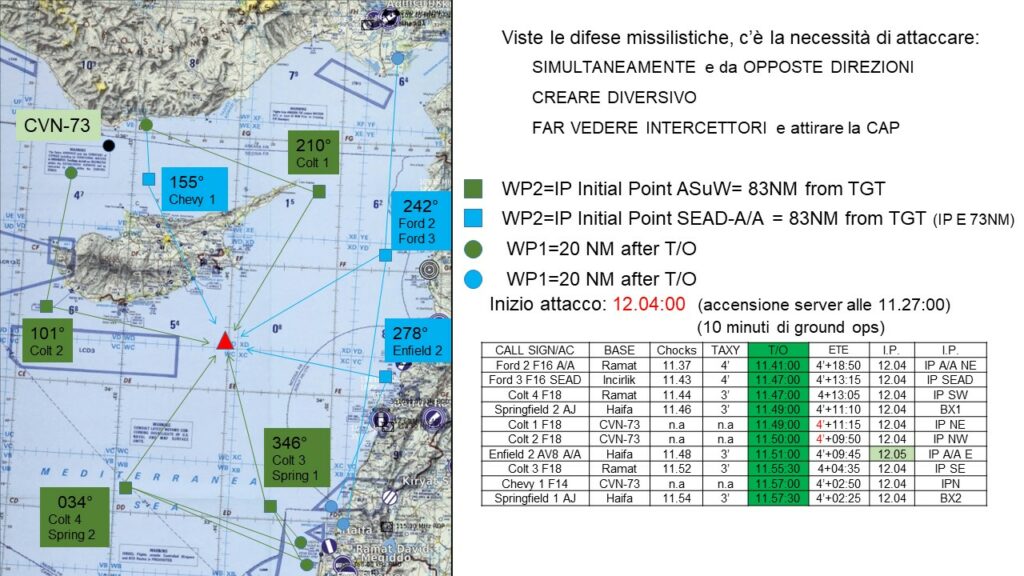 T/O a WP2
A/A e SEAD: dal decollo al primo punto, con salita a 10.000', 4 minuti. I dati sono ottenuti con decollo senza post bruciatore (si per CVN-71!!), carrello su, flap su a 230kts, passati i 250 kts si imposta 10 gradi muso alto e, una volta settato quello, si riduce 95% di motore. Una volta raggiunti i 10.000', si mette giù il muso livellato, non si tocca il motore e ai 420nodi GS si usa ATC o motore per mantenere 420 (potete vederla sul display HSI sulla destra della sagoma dell'aereo). Vedrete che sarete praticamente al WP1 a 20 NM dopo 4'. F18 CVN: se in 2 per formazione, tempo per WP1=3' anziché 4'.
ASuW: carrello su, flaps su a 230kts, dopo 250kts mantenere 95% motore fino 420GS (verifica su HSI) a 1000', scendere quando in vista del mare. Dopo WP1, 450GS o quanto basta per arrivare alle 12.04 e scendere a 200'
Attacco SEAD-A/A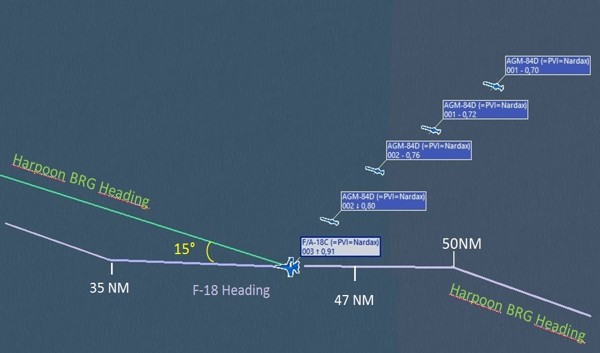 A 20.000' (o quota tatticamente preferibile) lasciare l'IP (WP2) seguendo la prua d'attacco 500GS o più, in modo da dare l'impressione di essere velivoli d'attacco. Auspicabilmente l'eventuale CAP presente si dirigerà verso di loro a Nord e a Est, non vedendo i bombardieri. Da quel momento in poi, gli F16 SEAD, quando in range (200' o alta quota), lanciano i loro AGM88 e divergono di almeno 30° verso Nord, in modo di attirare a loro volta eventuali CAP in mezzo tra F16 e F14 e poi fanno RTB. Gli Intercettori ingaggiano eventuali CAP Su33 evitando, chiaramente, di avvicinarsi sotto le 50NM dalla Kuznetov ad alta quota. Se loccati, "split-S" verticale verso il mare per far perdere il lock radar.
Attacco ASuW (200' radar altimetro)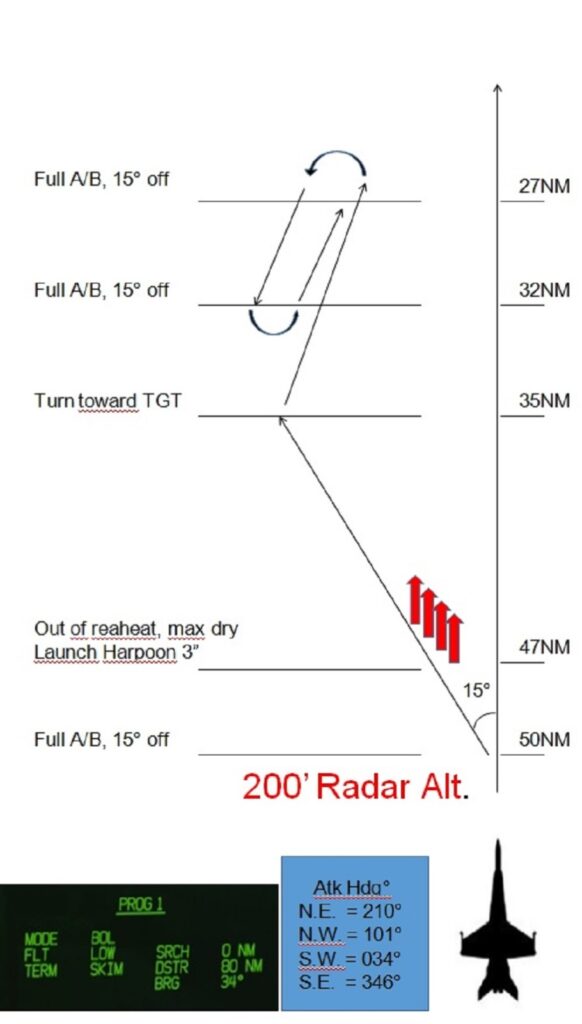 Dal WP2, 500 kts G/S, in formazione tattica "box" (velivoli al vertice di un quadrato di 1NM di lato). Da prove fatte, i radar delle navi non hanno modo di vederli a quella quota oltre le 28 NM. Arrivati a 50NM manetta full A/B divergendo di 15-20° dalla prua d'attacco verso l'esterno della formazione, e a 47N manetta our of reheat, lanciare i 4 missili a 3" (i 4 Harpoon vireranno verso la prua d'attacco distanziandosi anche lateralmente). A 35NM riprendere la prua d'attacco e salire a 500' fino a 27 NM dalla nave o comunque quando si ha segnale di essere loccati dai radar di tiro. A quel punto, virare ESTERNAMENTE alla formazione, chaff, riguadagnando ASAP i 200'. Alle 32NM, virare nuovamente verso la nave salendo ad almeno 500' per farsi vedere minacciosi sperando di attirare attenzione. Quando sotto lock per lancio missili (comunque minimo 27NM), virare a 200' con A7B e rientrare.
∎ DOWNLOAD
Kneeboard No Lato Server